Memories of Ishasha Plains in Queen Elizabeth Park
Blogs on Tree Climbing Lions of Ishasha plains was the main compelling reasons I added Uganda on my bucket list. Long ago it had never crossed my thinking that Lions can even trot up trees and one of my survival mitigation plan was that in case I encountered a Lion in the nature wild then my best bet would be my nearest Tree so that I could see another Day Sunrise again. However this Queen Elizabeth Park Adventure has made me to run back to my drawing board, Its real Lions can climb trees with ease though may not get to the extremely small branches like primates (Monkeys, chimpanzees) but enough to send a shiver in my spine that I won't be safe with that game plan just in case am in trouble.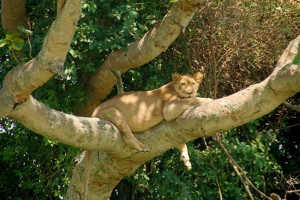 Curiosity never runs out of my mind and often my travel guides have challenges to answering multiple questions to ensure I really appreciate my adventure and Thank God Ismail my Itinerary guide was just amazing and informative in most aspects since is always on the road traversing various parks in Uganda and Rwanda. Lions climb trees for various reasons; 1. They rarely hunt during the hot sun periods of the day thus its away to conserve their energy and rest abit and they will find them on trees with eyes closed in their nap, 2.Climb trees to avoid biting insects which often fly at low heights , 3.Trees offer a vintage point to spot location of prey especially where the grasses and thickets are higher compared to their body heights. They rarely use trees as their ambush strategy as observed by the leopards at times.
Exceptional wild plains are sited in Queen Elizabeth national park one of Uganda's best game viewing ground in western Uganda. The park stretches to Mount Rwenzori foothills in the north and incorporates a wide mixture of attractions, Crater Lakes, Diversity of wildlife game the Big Five and Others, birds, chimpanzees & Monkeys treks on the gorge forest reserves of Kyambura and Kalinzu, lakes and the magical Kazinga channel where you can sight the Elephants cooling off, Hippo swims and other reptiles. Safaris to Queen Elizabeth Park are scenic and memorable to keep the traveler engaged throughout their stay. Accommodation is fantastic to cater for all travelers, luxury, mid-range and Budget including camping facilities for backpackers too with internet access once your back from the game drive though you can also opt to purchase a local telecom line and load internet bundle for flexibility. Watching women harvest salt in Katwe salt lake was just amazing because I often pick salt from super markets with no clue how its made, now that how bad modern society and daily work life deters us from really understanding the various food/product chains.
Being flexible on my travel plans since I dedicated a 6 months world travel adventure, I also fixed in the Gorilla safari in Bwindi impenetrable Rain forest Park in Western Uganda. Very easy to connect from Queen Elizabeth park via Kihihi route. Now this was breath taking seeing them in the nature wild habitat far different when we see them in captive zoo's where they cant live their normal life. So huge with a bossy male Silver Back Gorilla and young ones climbing trees with eyes, fingers facial expressions which can make you ask many questions of our relatedness as scientist often put it that we share almost 98% of our DNA genetics with apes. I would recommend Gorilla tracking safari on any travelers Bucket list to Uganda and note you can also do Gorilla safari in Rwanda– Volcanoes park or DR Congo Virunga park and its worth the time and money. Where resources permit, you can track multiple Gorilla families because each seems to be unique in one way or another regardless of them being Gorilla's.