WHY NAME THE MOUNTAIN GORILLA FAMILIES
The Giant Mountain #Gorilla's are close relatives of us Humans and one way another we are descendants to the Apes. Encounter with the Giant Apes in the Thick Africa Jungles will leave you speechless especially if you take time to observe their behavior characters and how they relate to one another in their family/groups just as Humans in homesteads , I know you will argue that we are much more elevated coupled with civilization and that is true.
They are shy and gentle in nature but can be aggressive if they feel threatened with the male Silver-back (Family/group head) taking charge. His protection role for the family comes with benefits such as mating with all females, eating first and the attention he gets. Trackers are advised to keep atleast 8-10metres from the family to avoid unnecessary aggressive encounters. However the Gorillas if they feel not threatened often roll closer the trackers. All you need to do is talk with your camera to capture all the necessary memories.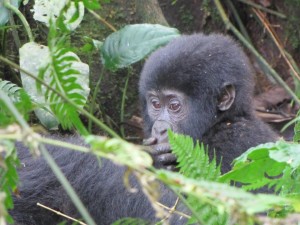 In the Africa Jungles of #Bwindi Impenetrable Rain forest park in Uganda, #Volcanoes National Park in Rwanda and #Virunga National Park in DR Congo are the only nature habitat where Mountain Gorillas can be tracked in the whole World.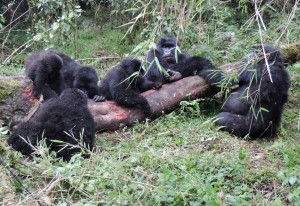 Park officials have adopted the naming of Mountain Gorilla families/groups once habituated and their members for easy recognition and follow up/monitoring. Local names are often picked to affiliate with the communities and people in direct charge for the Gorilla conservation and protection affairs. New born are given names upon sighting with the families just as Humans do when new family members arrive. In Rwanda Volcanoes National Park, a ceremony "Kwita Izina" is conducted every 1-3rd of September every year to name all new Gorilla born recorded in each family and this is a big tourism attraction event worth the Bucket list to Africa.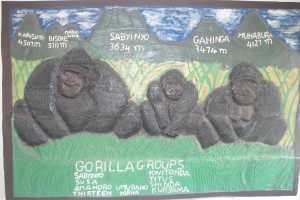 Note Mountain Gorilla's are one of the endangered world animals with 2016 census having recorded 880 in population in all the three National parks in Uganda, Rwanda and DR Congo nature habitats. It's a treasure we need to harness and needs consolidated efforts to protect and conserve the Gorillas  in collaboration with partners and local communities for future generations.