Discover Uganda's capital in just a day by visiting various religious sites, business centers, and market set ups, administrative buildings, public transport parks and cultural sites. A guided walk down town is to amazing to see how the different city businesses are operated in both shops and markets. The tour starts in the morning with a pick up at your hotel of residence and ends with a drop off at your hotels in the evening.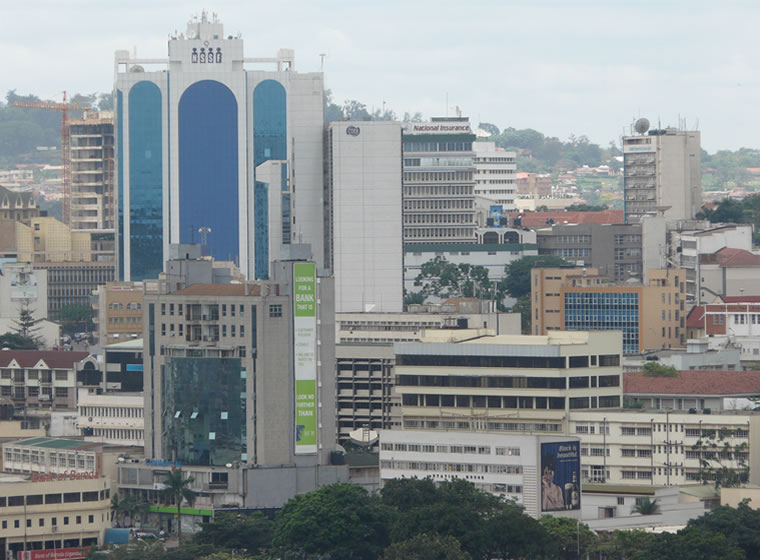 Trip itinerary
After breakfast you will embark on the exceptional excursion in Kampala to explore the Namugongo Martyrs shrine, Namirembe Cathedral, Uganda Museum, Kabaka's lake, National theatre, Bahai Temple , Owino market, Makerere university etc. Lunch will be at a nice a fast food restaurant followed by other discoveries in the afternoon till late evening. The tour can be done at the beginning of your Uganda tour or at the end any time of the year. Take a look at some Kampala city attraction which can't be skipped in the tour and will show you the other side of Uganda's culture, social life , economical, religious and political.
Namugongo Martyr's Shrine
A famous ground for pilgrims all over the world and prayers are always held every year on 3rd June in memory of the 27 martyrs who were burnt to death by a king because of their Christian faith. Indeed the place is full of Christian faith memories that even pope was drawn to visit the palace in 1993 on February 7th Pope John Paul and Pope Francis on 28th November 2015.
Namirembe Cathedral
Being one of the first religious churches to be built in the country it's instead got a new name as the Church of Uganda. Here you will be informed about what it takes to love Jesus and also believing in the bible. People here are engaged in the mission of Jesus Christ as their savior in the world today.
The Uganda Museum
A lot will interest you here since all Uganda tribes where put in the same house a symbol of unity in among the people of Uganda. A display of Uganda's cultural heritage brings you a well organized collection of all the countries ancient from clothing, hunting, agriculture, medicine, religion and many others. The musical instruments are too beautiful and show the true tradition of Africans.
Kasubi tombs
The burial ground of four traditional Royal kings of Buganda is an important historical and culture place to the royals and the people of Uganda at large. The world heritage site is situated 5 kms away from Kampala city centre on Kasubi hill on Kampala/ Hoima road. However, dress decently in respect of culture before entering the site and away of respecting the Buganda culture.
The Kabaka`s Lake
The only Manmade Lake in Africa with thousand of bird species and water activities. The lake was meant to join Lake Victoria and was a prepared escape route of Kabaka Mwanga in case of any royal place attack. However he died before completing it and its well kept resource for both culture and tourism.