Tips for an Africa Budget Travel from the Travel Planner
"A journey is best measured in friends, rather than miles." – Tim Cahill Travel can be successful or turn into a nightmare if you have not endeavored to do your homework well especially for long period travels. However sometimes they say you can turn a "lemon into a lemonite", but not all the time especially when your attitude wont help this thinking bail you out. Prior planning is key because it will help you get to your destination and back with wonderful memories to carry a life time!
Research on Destinations & Ask for Guidance from Service Providers:
Knowing where your plan to go and what to expect or explore needs some personal research. So much information currently exists through the internet, travel blogs and social media that will guide you in making rightful decisions with ease.
Consulting travel agents specialized in the chosen destination maybe reward and remember many agents are willing to avail all the necessary information at no cost to help you make wise and money for value decisions depending on the category of travel you wish to take on. Reach out to many and chose the best option that suites you most.
High & Low Season Travels:
Budget travelers besides backpacking are cautious of costs but most likely value for money with comfort. Choosing the right window to schedule for your safari or travel will determine how much you can save and its often advisable to utilize the low season travel windows when demand is low and realize good bargain at safari packages and service facilities. For instance Mountain Gorilla tracking permits in the Thick impenetrable rain forest jungles of Africa especially Uganda offers permit discounts during such low season periods in April-May and November and its worth the save. Note Gorilla tracking in the nature jungles is only in Uganda, Rwanda and DR Congo as the destinations and its worth the memories to carry along.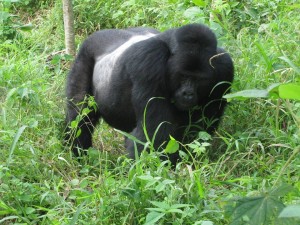 Accommodation & Dinning:
Accommodation with a touch of comfort is important for budget travelers and selection is key depending on the destination. My first time to sleep in a tented camp was initially scaring since I was used to cottages and hotels/lodges but trust me it was memorable because of the unexpected comfort my agent invested in during his selection. This opened my mind to being flexible in my travel encounters and enjoying the company of those around me. Accommodation options too vary with costing so chose one which makes you feel comfortable and for dinning you can opt to dine out as much as you can in case your staying in very expensive hotels. Inquiry on the restaurants around where your booked just in case to relax your purse.
Group Travels to Save on Transport:
If your not good at making strangers your friends please don't even think of this option. However if your open minded and easy at mingling with strangers then its worth undertaking because its also cost saving. Jumping onto well planned group itineraries that coincide with your planned travels is fun, you make friends and learn a lot from them, save on accommodation through sharing and transport costs. I love meeting new strangers because you come to understand how a small place you have traversed on this planet earth and motivate you to cover more miles with tips on how you can survive in those new places and where you can possibly stay.
In case you fail on joining groups then try hanging out in places where travelers hangout in your destinations. Go out and have coffee/tea, beer or a bite and meet those new faces than locking yourself in your cottage or hotel room. Its fun because you will realize how alive you need to be. If your not comfortable moving alone then move with your travel guide.
Options to Travel attractions to realize Value for Money:
Well often we are directed to the main pull attractions in our destinations and we would trade anything to realize that, true! But we often miss out of some simple details which you can even explore on the loose minutes on your schedule especially people and cultural. This is often ignored but if you take a minute then you would connect well with the people encounters in your destinations. Note some of these are often free so ask your travel agents for such possibilities and leave when your life is so enriched to detail to tell the whole story and not in punches.
Roger William
Travel Expert