The Wonder side of Uganda Water falls Experience!
Often travels are driven by Nature wildlife game adventures besides leisure relaxations in cool vacation facilities and coastline. However Treks & Hikes are less desirable due to their fitness checks and exercise involved yet it's a factor to health living just like heading to a short duration jogging/marathon or gym in normal daily life. I often trend for Treks & Hikes because they expose me to the nature beauty often ignored.
Uganda safaris expose you to diversity of attractions and water scenery lovers will be thrilled by adding it to their bucket list on the Africa continent. With almost 1/3 of its total area being covered by water, there is more to where water streams from into the rivers and lakes with diverse hypothesis put affront by locals to their origins in case you trended the people & culture experiences in the countryside.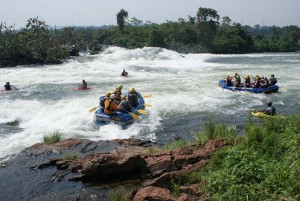 The beauty of water falls cannot not escape your eyes and thrills the soul just imagining how the water finds its way through small or large rock crevices to calm levels of the rivers or lakes. In the different parts of         Uganda you will capture numerous water falls right from high altitude mountains and hills down to the Savannah plains. The famous water falls include; Sipi three fold falls is breath taking on Mt Elgon in eastern Uganda, The great longest River Nile with its source in Jinja Lake Victoria (Second largest lake in the world) offers diverse sighting of falls along its streaming such as the Itanda falls, Murchison falls in Murchison falls National park) peaked with white water rafting activities along the nile for those who feel like testing their nerves though the weak nerves can opt for the soft spots while the strong trend on the hot spots under the guidance of rafter expert guides, Mt Rwenzori falls originating from the peak glaciation melting and streaming downwards to rivers that feed into lake George and connecting to Lake Edward via the Kazinga channel in Queen Elizabeth National Park in Western Uganda, Owen falls, Sezibwa falls with an enticing origin mystery as told in the Buganda kingdom. Almost on most mountain hikes & Treks you encounter the water falls spills down stream coupled with the serene beautiful landscape like the undulating hills and terraces in south western Uganda worth an experience when not in a rush.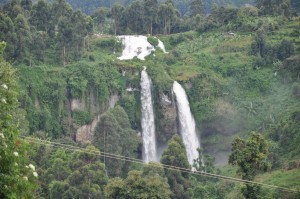 Besides the water falls, the stable water lakes and rivers are now attractive adventure for boat cruises and spot fishing besides enjoying the sight of water born animals such as Hippo's, crocodiles, reptiles and birds
Truly the Pearl of Africa- Uganda safaris offers you more travel adventures to keep you on your toes as you head to Bwindi Impenetrable rain forest national park to track the Mountain Gorillas, Chimpanzee/primate treks in Kibaale national park and Queen Elizabeth forest reserves of Kalinzu & Kyambura and the diverse nature wildlife game in the five main parks including the Big Five and Tree climbing Lions of Ishasha Plains as you wonder how nature takes its course in defining the survival for the fittest in its true sense.