Recommended Nature Habitat Primate Paradise in Africa
An experience of a safari in its Nature habitat more so in Africa which is less tamed with modern era of industrialization is just unforgettable compared to viewing the wild animals under controlled environments such as Zoo's and Theme farms. Africa offers this uniqueness to any wildlife adventure safari embracing the safari sites and where your accommodated with a natural touch of the wild side. Sleep in a tented or art crafted cottage with a touch of class and comfortable listening to the wild animals chant, laugh, talk in languages we can even possibly understand but all we know is that they too are able to communicate and get along easily with one another while protecting their own from danger and predators.
It's funny but true to know that every human is related to all the primates in the world-the Mountain Gorillas, Baboons, Monkeys, Chimpanzees, Bush babies etc. Africa thick jungles and forest reserves offers the nature habitat for most of the primates in the World including the unique and endangered Mountain Gorilla's only found in Uganda, Rwanda and DR Congo jungle forests. Join us on an Africa expedition to watch chimpanzees play, baboons welcoming you to their land as you en route to the parks, Monkeys staring at you up in trees and Meet the Gorilla's a life time experience which draw thousands for primate tracking safaris. Mountain Gorilla tracking can be done at pocket friendly rates affordable by all travelers bit Budget, Mid-range or luxury. Make you adventure come true in Africa by heading out on for a 10 day primate safari tour to Ngamba island, Kibaale forest Park, Queen Elizabeth and Bwindi Impenetrable Rain forest National Park in Uganda. In all primate encounters this holiday can open doors for grand primate viewing including feeding the chimpanzees and playing with them.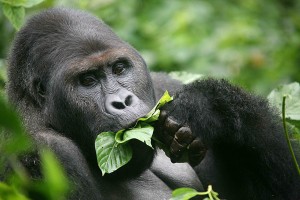 All Uganda primate tracking grounds have wide range of accommodation facilities like Luxury and down to earth accommodations and some travelers refer to it as a backpackers home to unveil the wild beauty. Variety of activities and attractions are ready for exploration year round including bird watching, Game viewing, Chimpanzee trekking & habituation, Gorilla tracking, Forest walks, cultural visits, Volunteer projects and many more. The wonderful scenery and weather spicy every travelers holiday a reason as to why Uganda is called the pearl of Africa. All primate safaris start at 7.30 am with a briefing from the park ranger guides at the main briefing ground followed by forest walks a& hikes in search of the primates.Gorilla tracking takes between 2-8 hours in Uganda while chimpanzee tracking goes for only 2-3hours. However, Chimpanzee tracking is done twice a day both in the morning and afternoon while Gorillas just once. Prior booking for permits is advised for Gorillas and chimpanzees plus habituation.
Travelers are allowed to spend a full one hour with the Gorilla's, take photography and also observe their behaviours but for chimpanzee tracking trackers view the primates all through the forest since they are shy creatures who keep running away from trackers. Good cameras are recommended in order to get nice photo captions since chimps keep shying away from trackers. But you can grab exciting moments with chimps at Ngamba Island a chimpanzee sanctuary where tourists play and even feed chimps. It's too magical to feed your cousins, get to know each other, how they look, move, eat, interact, and how they relate. Due to conservation purposes tourists are required to take some immunization vaccinations as a way of preventing the chimps from being infected by their close relatives –the humans.
As you know the country's main attraction is the habituated primates –Gorillas & Chimpanzees and travelers can spot 13 different primate species in one park none other than Kibaale forest Park. Tourists visiting Kibaale Forest park often opt for different treks & walks such as visiting the birders haven Bigodi wetland & Magombe Swamp , panoramic view crater lakes, and some wildlife – short hairly elephants, hippos, warthogs, sitatungas, bush bucks, lions, elephants, kobs, Bufallos etc. Butterflies are also available in most primate grounds especially in Bwindi Impenetrable Rain Forest Park & Kibaale Forest Park.
Uganda truly offers you a haven for a diversity of primates besides other wildlife excursions such as the Big Five, not forgetting the tree climbing lions of Ishasha in Queen Elizabeth National Park, Viewing the largest Elephants in the region and Giraffe as you can also try out white water rafting on the Great River Nile and spot fishing.