Gorilla Safaris & live Erupting volcano hikes in DR Congo
The Breath taking passion of primate safaris in Africa is only found in Uganda, Rwanda and Democratic republic of Congo. All cited in a single region East Africa where all Nature Habitat Mountain Gorilla adventure seekers head from the entire world. At the moment different Gorilla tours and hiking safaris are done every day in the four Gorilla parks Bwindi, Mgahinga, Volcanoes & Virunga. The life time adventure has produced many adventure debates among travelers comparing each countries trek to the extent that some decide to track mountain Gorillas twice in two different countries Uganda and Rwanda or Congo & either Uganda or Rwanda. According to gorilla tour experts, guides and forest rangers, gorilla tracking is an exceptional experience and its ever outstanding every time one encounters the silver back hence being the most amazing tourist adventure in Africa despite the costly Gorilla permit price from $350-$750 with a low rate for permits in Uganda during off season window (April-May & November) but with DR Congo permits going for US$ 400 regardless of peak or low season travel windows for Africa Tourism Industry. Tourists who visit the East Africa region for Gorilla tracking take Gorillas as their close friend by respecting all the rules and regulations which keep them happy and welcoming in their natural habitat.
If the trek wasn't unique and breath taking as today there would be no tourists to Africa to track mountain Gorillas in the rain forest. Few gorilla tracking visitors do treks without spending time to hike the rewarding different volcanos near and around different mountain gorilla parks. In Rwanda and DR Congo it's the order of all Gorilla safaris while in Uganda it's commonly done by Tourists who track Gorillas at Mgahinga National Park. The beautiful live volcanoes in Congo are too unique and looking at the stunning Crater Lake and flowing magma during the camping overnight stay at Nyiragongo is something we highly recommend to every gorilla tracking tourist to Africa. Namulagira and Nyirangogo hand in hand and you only need two days to explore them. No matter where you track Gorillas from but Rwanda and Uganda are both convenient points for one to connect to DR Congo for the pleasing hikes found nowhere else in the world. Besides you can as well hike Karisimbi and Bisoke in Rwanda if time permits. Both Africa hiking tours and Gorilla safaris are normally booked at once and travelers just drop by at a right time to start their dream holiday in Africa.
Only four days & three nights are enough for one to do the mountain Gorilla tracking safari & volcano hike in Uganda and this is truly a lovely great adventure in the pearl of Africa which offer tourists the most excellent view of Rwanda volcanoes while in Uganda and also the Uganda view as they hike the volcano's in Rwanda. Lake Bunyonyi is at every tourist disposal a lovely island for relaxing and chilling in Uganda. Couples find it great as well as friend traveling tourists. Making a gorilla trip to Africa is a step up from the movie watching to live experience though many fail to make it because of tight schedules and financial hardships. But in April, May and November Uganda has the most cost friendly Gorilla tracking tours and its cheaper when you book as a group. In DR Congo near Uganda lies Virunga national park massive ground for Gorilla tracking trips and tourists to this park doesn't only hike the Congo volcanoes but also get a chance to track Banobos the rare chimpanzee species in Africa.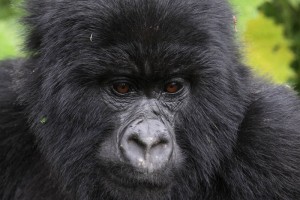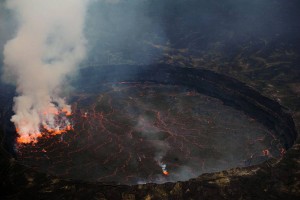 DR Congo Nyiragongo Active Volcanoes that can be sighted during Hikes