15DAY UGANDA GORILLA, CHIMPANZEE, NATURE WILDLIFE SAFARI ADVENTURE
Its often touching when clients appreciate safari packages crafted depending on their time schedules and resources but enjoying the safari in its true sense is more thrilling. As often said travel will leave you speechless and enlists the anger to search for more answers to our own existence depending on where you originate and the exposures encountered along our life.
The 15 Day Uganda safari for those with enough time to explore will be just a must fit in for Uganda travelers because it takes you the most corners to see it all embracing both people & culture and the nature wildlife. Its one trip which often replenishes my soul and its often fantastic in company of adventurous clients.
The safari covers Kampala city urban tour to cultural and religious sites besides the night life expo often desired by the young generations to enjoy a cool beer in some vibrant open bars while meeting other travelers. Visiting the Source of the Nile longest River in Jinja with boat cruise on the Nile is just amazing and tasting that Tilapia fish delicacy on the banks of the Nile as the sun sets initiates the country side adventure.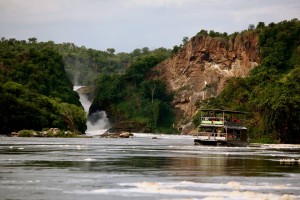 From Murchison Falls Park we land in Kibaale Forest park to trek the primates the Chimpanzee and Monkeys besides birds for those eager to learn more on the various species. Many sightings are here in Kibaale Forest park. Then Connect to Queen Elizabeth National park named after the Queen of England. Great them park to catch the tree climbing lions, Hippo's, antelopes, Buffaloes, warthog, kobs, impala etc and the boat cruise on the Kazinga Chanel which connects Lake George in Uganda and Lake Edward which is shared with DR Congo as you encounter Elephants cooling off and reptiles enjoying their habitats.
Bwindi Impenetrable Rain-forest National park Home to the great apes the Mountain Gorilla's. OMG encountering these is one life changing experience indeed. Truly huge, shy with the male silver-back being very protective of its family. Gorilla families show how close apes are to humans as you observe their behavior characteristics when tracking. Learning about the human habitats living along side the Mountain Gorilla's is worth it especially the Batwa pygmy tribe who are still primitive in a number of ways but adjusting to civilization.
After the Mountain Gorilla tracking, that energy needs to be replenished and the main destination is often Lake Bunyonyi often referred to as the Switzerland of Africa in its nature ways and not in aspects of the elevated banking sector and extreme rich living. But its more on its nature beauty of the lake and work exploring during the boat cruise. The lake has over 15 islands as you see people using canoes to connect to various islands for medical or education facilities and the cultural norms attached to the various islands such as isolative islands gazetted for promiscuous wives or daughters way back during the ancient times.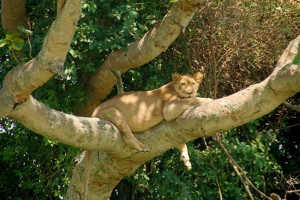 From Lake Bunyonyi we connect to Lake Mburo National park another serene park stopping by Cultural museums as you appreciate the articulating landscapes and terraces of the Western Uganda often referred to as the land of Milk and Banana's. Each park often offers a unique aspect to its game besides the diversity and surrounding communities. Before en route to Kampala passing by the Equator.
However with more time you can explore more and spend more time per station and with less time still some tailor made safari can be crafted to suite your desires and still have a memorable experience while in Uganda and why its often referred to as the Pearl of Africa. From Nature, climate and to its Hospitable and welcoming citizen you will enjoy your stay!